C-47 Flyover
Tentatively Scheduled, A C-47 Flyover at Reunion 2002
I have been in contact with a gentleman in Ohio about doing a single C-47 low level flyover during our Memorial Plaque Dedication Ceremony. The most the cost will be is $500 and he says that that will probably go down as time goes on and that he would not be surprised that in the end, the flyover will be without any cost.
I told him that I did want the flyover and followed up the phone conversation with an Email. I told him that if I had to, I would pay the $500 myself. So, if world tensions permit and if base security does not prevent it, we should hear the beautiful sound of a C-47 overhead.
Update: April 7th, 2002. I have received a note from Stephen Baxter, that the C-47 Flyover has been approved for May 10th at 15:00 hours, at the beginning of the Memorial Plaque Dedicaton Ceremony. He says the flyover planned will be impressive. Hope you can be there. J.C.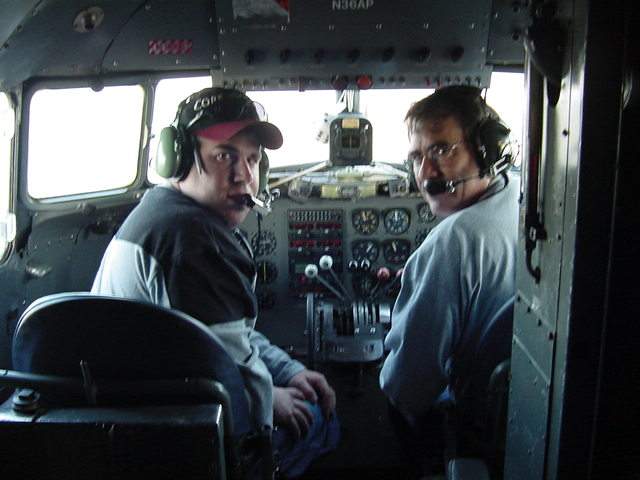 Stephen and LeRoy Dee Baxter
Note the updated instrument panel and the missing bulkhead behind the Pilot's seat.
---
J.C. Wheeler - HC 62 Box 6 - Clarksville, AR - 72830
Email [email protected]